Brightbull's Blaze of Glory Mystyle

                    "Wolfie"

                  Sire: GBCH MyStyle Rolex Ocobo

                   Dam: Kingrock Snow Maiden

On September 2, we left Springfield, Missouri for London. We were off to visit a few kennels and attend a Championship dog show.

Time let us visit only two kennels, Britishpride and Ocobo/ Mystyle kennel.

While at Ocobo / Mystyle we found "Wolfie", Brightbull's Blaze of Glory Mystyle. 10 months old, Red and White, good width and upsweep of jaw, correct low ear placement, the distinctive roach back, and great movement.  His disposition is wonderful and he is easy to travel with. We decided to bring him home to Missouri and add him to our breeding program. We have already entered Wolfie in shows. We look forward to showing him and believe he will play a very important part in our breeding program.

Kevin showed us the kennel and their dogs. We spent the better part of two days talking dogs. They were happy to share information and Pat was a gracious hostess. We found out we have mutual friends and Kinsey loved to listen to Pat's lovely accent. All too soon our time was up. We left feeling very confidant that we had made a good decision for our future in Bulldogs and that we had made a new friendship that would last a lifetime.

    Wolfie is currently being offered at stud to approved females.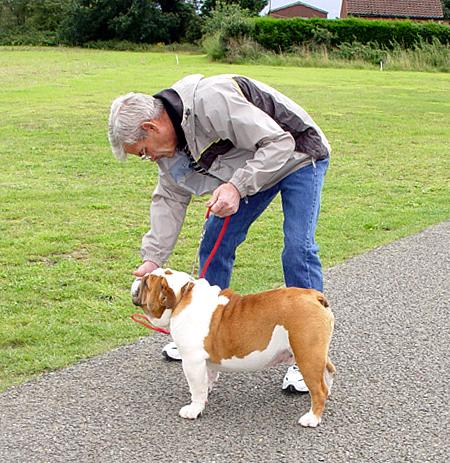 Wolfie captured a 4-Point Major

at the St. Joeseph Dog Show, January of 2009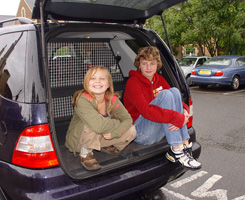 Waiting at the train station to go to Mystyle Kennel.

Kids instead of dogs. Ride back to train station from kennel.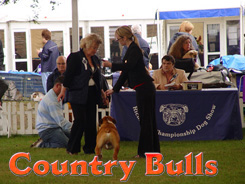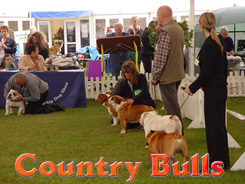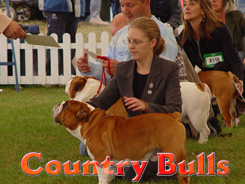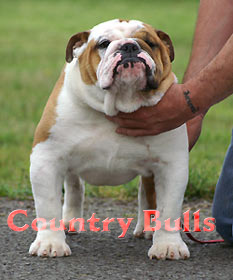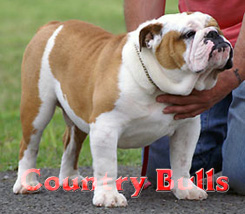 U.S. Bred • U.S. Born • U.S. Raised... It Makes a Difference

• Cooled Semen Available • • Puppies For Sale Occasionally •

Dean & Pam Altic • Dr. Bruce & Tonna Hood

417-267-2440

417-327-7677  cell • 417-326-7297  vet clinic

Pleasant Hope, Missouri

All images and text on this website are the sole property of Country Bulls, and can not be reused without express written permison.